Haridwar tour package provides opportunity to experience the holy river Ganges, sacred bathing ghats, ancient temples, ashrams, hymns of priest & various holy rituals by Indian pilgrims. Haridwar is truly kaleidoscope to culture of India. Haridwar literally means Gateway to God. Haridwar is one of the most famous holy cities in India. Haridwar is widely visited by Hindus across the world. Hindus from all around the world try to have tour in Haridwar once in lifetime. For Hindu people Haridwar tour means to wash their sins. For some people Haridwar tour is part of their holy rituals. Groups of pilgrims come through out the year for spiritual tour in Haridwar. Normal tour in Haridwar starts and commemorates with enchanting sounds of temple bells and hymns of priests. Har Ki Pauri is the major attraction during Haridwar holidays. In the evening a people perfume worship to goddess Ganga with earthen lamps, flowers and incense sticks at Har Ki Pauri.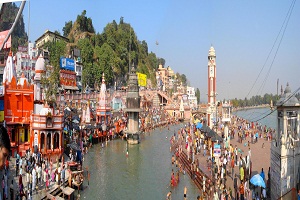 Most people give priority to Har Ki Pauri, temple & ashrams in Haridwar tour package. Mansa Devi Temple, Chandi Devi Temple, Daksh Temple, Maya Devi Temple are some of the main temples that deserves a visit while Haridwar travel for short period. Shantikunj Ashram is also one the most visited place during tour in Haridwar.
Attractions in Haridwar:
Jain Temple, Gurukul Kangri University, Neel Dhara Pakshi Vihar, Bilkeshwar Mahadev, Bharat Mata Mandir, Kankhal, Bhimgoda Tank, Doodhadhari Barfani Temple, Suresvari Devi Temple, Pawan Dham, Parad Shivling, Anandamayi Maa Ashram & Patanjali Yogpeeth.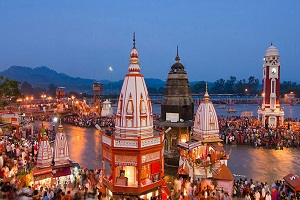 Ghats in Haridwar Hari ki Pauri Ghat, Kushwan Ghat, Mahila Ghat (Girls & Womens Ghat), Subhash Ghat.
Famous Haridwar Ashrams:
Saptrishi ashram, Santikunj, Swaminarayan ashram, Pawan Dham ashram, Jain ashram, Vayas ashram, Sri Ram ashram.